Golf Course Renovation | Clearing

Depending on the site conditions and the topography for the project, site clearing can be a relatively simple task or one that requires months to accomplish. Each architect develops a routing plan that dictates the amount of clearing required to meet the desired outcome of the course design.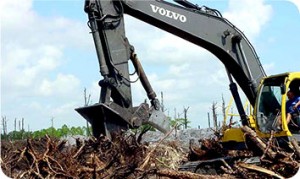 Clearing techniques include open burning, air curtain incineration and chipping.  Depending on local ordinances, a combination of clearing and burning techniques are used to accomplish the goals of the project as this is the most cost-effective method available.
In areas where burning is restricted, chipping and grinding is the approved method of disposal. After all clearing is completed, Ryangolf removes all cleared trees and debris to avoid damage to the remaining tree lines.
Experienced clearing from single-tree
removal to 100+ acres
Safe clearing that abide by state and
local requirements
Latest equipment helps burn and dispose
all clearing debris