New Golf Course Construction | Earthwork

Every project requires different earthwork and lake excavation processes. Depending on the site requirements and architectural design, the difficulty and the time allotted for the earthwork operations impact the project's overall cost as well as the finished product.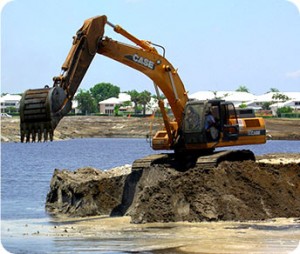 Mass excavation or lake excavation, usually the largest portion of earthwork activities, provides fill material to raise grades of roads and house sites as well as the fill required for the golf course area and, at the same time, may be completed for a water storage requirement mandated by the local agencies. Site cuts are the cuts made below existing grades within each corridor that adds contours to the golf holes. These cuts are generally only several feet deep and are usually performed by a bulldozer operated by an experienced shaper.
Ryangolf's heavy equipment operators and shaping staff are extremely knowledgeable in the safety and protocols of earthwork activities. Any given project could range from less than 100,000 cubic yards to more than 1,000,000 cubic yards of excavated material.
Experienced in challenging excavation operations
Capable of excavating in sites where dewatering
is prohibited
Knowledge to adjust site cut operations to maximize the placement and balance of the project
Professional management of explosives and rock trenching machines (if rock is encountered during the earthwork process)